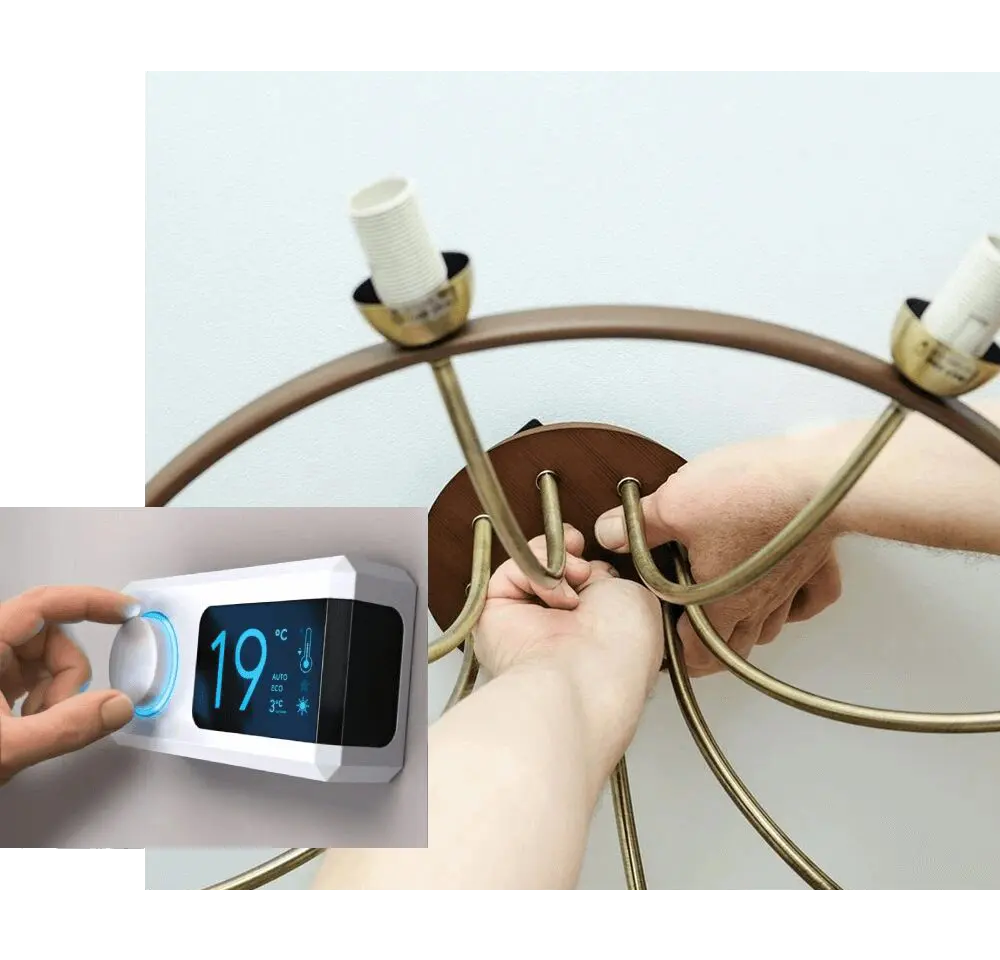 Check Out the
Various Electrical
Services We Deliver
We recommend replacing all smoke and CO2 detectors over 7 years old. To ensure you are well protected, install smoke and a CO2 detector, or a combination smoke/CO2 detector, on each level of your home. Also, replace the batteries in your smoke and CO2 detectors twice a year, and try replacing the batteries every spring and fall when you change your clocks.
Generators are the one purchase you wish you made in the middle of a storm when the power goes out, and you know it is not coming back anytime soon. So rather than throwing away all your recent grocery purchases, install a generator to protect your home and family. Whether you wish to install a small portable generator or an automated whole-house generator fueled by natural gas or propane, we can assist you through this process. We will work with you to help you come to the best choice for your home.
Ceiling fans are a great alternative to running an air conditioner. They use less energy and run quieter. When you purchase a fan, consider how you want to control it via a remote, etc. Some fans do not come with a wall controller. 
Box stores often offer installation support, but they have no qualms about leaving exposed wires draped about your room. Let us help you install your flat-screen TV and all your home theater equipment. We will fish the wires behind your walls. Your TV does not have to be an ugly tangle of wires.
Whatever you need, we can help. We can install any type of lighting: recessed, ceiling-mounted, track lighting, under-cabinet lights, or custom lighting. We can work with your lighting designer or make recommendations directly that suit your home. We have over 20 years of experience installing lighting in homes just like yours.
Install a quality surge protector for your televisions and computers. Also, consider installing a UPS (uninterruptible power supply) system, which is similar to a surge suppressor but has a battery backup feature that will keep the power going for a short period during failures. Lastly, an AVR (automatic voltage regulation) will keep the incoming power steady at all times.
Tripped breakers sometimes appear as if they are still ON as they do not fully move to the OFF position when they trip. To properly reset a tripped breaker, first, move the handle all the way to the OFF position and then back to the ON position.
When replacing light bulbs that are on a dimmer with LED bulbs, be sure to purchase bulbs marked for use with the specific dimmer. Not all LED bulbs will work with every dimmer.
Installing an attic fan keeps the house cooler, saves energy, and helps the roof last longer.
Installing timers for your exterior lighting will give the house a lived-in look that will discourage intruders and welcome you and your guests. It will provide light when you arrive home after dark, making you feel safe. They save energy by turning on the lights at dusk and off at a time of your choosing. No more leaving the lights on before you go out. They are really smart. They know to adjust the "on" time each day throughout the year, adjust for daylight savings, and remember their programming when the power goes out.